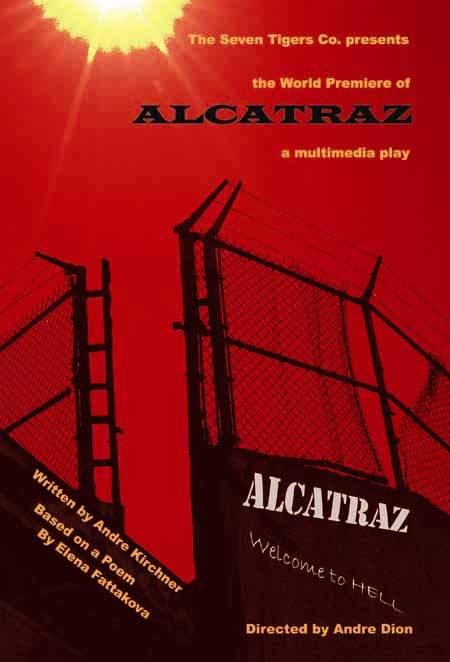 the Seven Tigers Co. presents

the World premiere of ALCATRAZ

a multimedia play

based on the poem "Alcatraz" by ELENA FATTAKOVA

Written by A. KIRCHNER

Produced and Directed by ANDRE DION

Featuring

DRAKE ANDREWS *
MICHAEL BUONI
ELENA FATTAKOVA
RAHTI GORFIEN *
MARK KONRAD
PAUL NAVARRA*
DANIEL J.O'BRIEN*


* Members of Actors Equity Association

---


Previews: Thu. to Sat.; April 19, 20, 21 at 8 PM, $10

Shows: Wedn. to Sat., April 25 to May 12 at 8 PM, $18

Sunday Matinee: April 29 at 3 PM


14th St. Theatre, 344 E. 14 St. (btw. 1 & 2nd Ave)

Box office # / Reservations…….212-203-9111

*
Excerpts from press release:
Enter the world of ALCATRAZ!
The most notorious federal penitentiary in the history of America... Following the life of an inmate, we'll meet his buddies –
Al Capone and Machine Gun Kelly – and some other illustrious characters. A few of them try to escape, but NO ONE escapes from Alcatraz!
And somehow... they even manage to have FUN.

The show Alcatraz is a full-length multimedia play for six actors and reciting poet.
An Equity approved showcase.

---